The entire real estate world has been working toward compliance for years, going all the way back to RESPA in the 1970s. You've always had your customers' best interests at heart, but now there are more hoops than ever to jump through before you can say that you're compliant.
The last few years in the title insurance and closing and settlement industry have been a whirlwind when it comes to this subject. Remember the TRID rollout and the emphasis on the American Land Title Association's Best Practices? Throw in a collective effort to become more transparent and forward-facing for consumers, the battle against wire fraud and other data security concerns, and the need to get – and stay – compliant has likely felt like a never-ending battle.
Lenders today want to know that they are working with the title and settlement companies who
are doing everything possible to protect the integrity of the transaction and the funds involved.
You deserve vendors and partners who are as dedicated to compliance as you are.
Read our compliance guide to learn the tools you can use to stay compliant and how a dedication to compliance will not only benefit your customers, but you, as well.
In the e-book, you'll learn: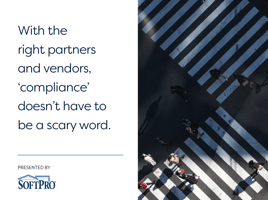 • What compliance is and what it is not
• Tools and products you can use to help keep you
compliant
• How to let your customers know about your dedication to
compliance
• How the partners and vendors you choose to work with
can help you meet compliance and best practice
standards
After you read the guide, be sure to check out our compliance checklist to make sure you're following all the right steps on your compliance journey.