Have you heard about SoftPro's Saved You a Seat webinar series? As we all adjust to more remote working and virtual connections, SoftPro decided to create a special webinar series for our customers, Saved You a Seat.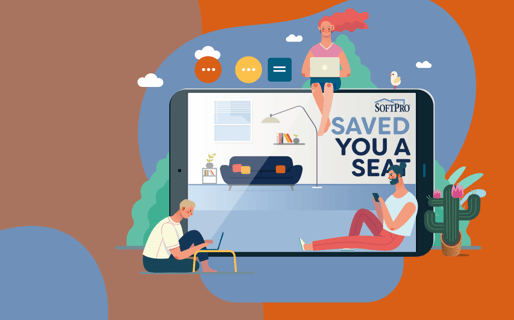 This series covers a range of topics including everything from industry updates, technology trends, best practices for working remotely, to tips and tricks for SoftPro software AND beyond! Take a look at some of our past featured episode topics:
Episode 1: Remote Online Notarization
Episode 2: Living and Working Remotely
Episode 3: Tips, Tricks & Tools for SoftPro Software
Episode 4: Don't Social Distance Your Marketing!
Episode 5: SoftPro Select Secrets to Success
Don't miss an episode! When you subscribe to Saved You A Seat, you will receive a notification each time a new webinar is available for registration! Subscribe now:
Don't miss the next episode of Saved You a Seat! Register now for the next webinar:
Additionally, if you are unable to join a live webinar session, not to worry! We record each episode and make the video recordings, presentation slides and other webinar materials available on our Saved You a Seat recap page. The video recordings are also posted to SoftPro's YouTube playlist. View our past episode recaps below:
Each episode, we'll be sharing a new recipe with you. Thus far we've covered some of SoftPro Director of Regulatory Compliance's yummy dishes like enchiladas, chicken satay, garlic pasta and more! Do you have a special recipe you would like to share with us? Submit your recipe online! If you make a recipe, tag us on social media using #SoftProSavedYouASeat and we may feature your recipe or photos in an upcoming webinar!
Do you have an idea or topic you'd like to see covered in a future episode of Saved You a Seat? You can reach out to us on social media using the hashtag #SoftProSavedYouASeat or submit your topic online and let us know your suggestions!