After years of ups, downs, twists, and turns, the housing market may surprise us this year by simply being normal. Ongoing issues like low inventory will persist, and regional markets will respond differently. Promising signs on mortgage rates and the economy keep us hopeful. There will always be those who forecast gloom and doom, but what we see on the horizon seems much more pleasantly boring.
It can be hard to know how to get ahead in an unusually stable market. The SoftPro team is here to help. We'll give our insights below. Then we'll show you how to capitalize on them.
Some Things Change: Prepare for Variability Between Markets
National and even global forces during the pandemic pushed the housing market from a boom to a standstill. In 2021, the entire market was hot as historically low mortgage rates and inventory sent home sales and prices skyrocketing. As inflation took its turn to soar in 2022, the whole country felt the market screech to a halt like pulling the emergency brake on a racecar. Certain areas did better or worse, but the entire country shared the pain and gain.
2023 will be different. Regional markets are recovering differently from the craziness of the last three years. Exurban towns that boomed during the lockdown as workers no longer had to commute to the office will see a sharp decline in prices as many retreat back to the cities and suburbs. However, certain cities like San Francisco, the hub of the contracting tech industry, will also see a decline in prices. To be prepared for these variations, you'll need to be the expert in your region to keep your clients accurately informed.
Some Things Remain the Same: Inventory Will Remain Tight
Low inventory has plagued the real estate industry since the 2008 housing crisis, and the market won't fix that any time soon. After the 2008 crisis, many of the existing builders went out of business, and the ones that survived were understandably wary of overbuilding. However, even after over a decade of economic recovery, we still don't have a large enough housing inventory to meet demand. We currently have 3.3 months of inventory, while a healthy market should have around six months. Inventory is expected to increase, but not to entirely healthy levels, as builders and potential sellers wait on the sidelines to see what happens in the economy. Builders do not want to start on new houses if they fear a recession is on the way, and potential sellers don't want to put their home with a great mortgage rate up for sale if their only options to buy are overpriced and double the rate. Buyers priced out of the market during the boom are also biding their time.
United States Total Housing Inventory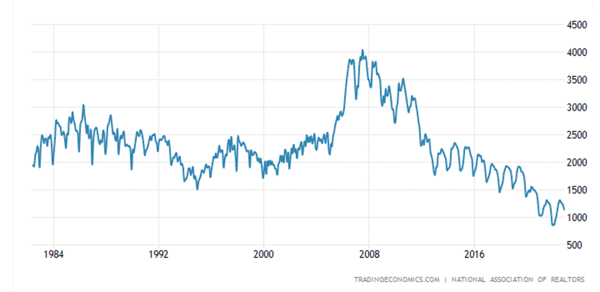 Mortgage Rates Will Decrease
As inflation shot up in 2022, the Fed was forced to raise interest rates to combat the rise in prices. This led to one of the sharpest increases in mortgage rates in history, with rates finally stabilizing at a 40-year high. Now, the Fed must raise rates high enough to tamp down inflation but not so much that it causes an overall economic recession. Powell has described this desired middle ground as a "soft landing," and the fate of mortgage rates (and the entire housing industry) awaits the results of this landing.
Thankfully, experts are seeing promising signs that the Fed may pull it off. If they do, mortgage rates should slowly decrease throughout the year. Lawrence Yun, the National Association of REALTORS®' Chief Economist, believes mortgage rates may have already peaked and expects them to fall to 5.7% by the end of 2023. The Mortgage Bankers Association believes the year will close with even lower rates at 5.2%, while Freddie Mac projects slightly higher rates than NAR at 6.2%.
It's Not 2008
While Powell's plan looks promising, there is always a chance that the landing will be rough. Inflation could prove resilient, forcing the Fed to increase rates to the point that causes a recession. For those experienced in the real estate industry, this inevitably brings comparisons to 2008. There will always be doomsdayers predicting 20% price declines, skyrocketing foreclosure rates, and a replay of the financial crisis and years of recession. After the booming nature of the housing market over the last two years, that may even seem like the logical perspective. But when you look around, you realize it's 2023, not 2008.
Unlike the lead-up to the financial crisis, today's homeowners are more financially stable than ever. Government regulations since 2008 have created a generation of strong homeowners with excellent credit scores, far from the questionable buyers of the early 2000s. More recently, many homeowners are even sitting on piles of money. During the pandemic shutdowns, household savings increased, providing a cushion against any economic shocks. Foreclosure activity, a key indicator for an impending crash, remains below 80% of pre-pandemic averages. Finally, homeowner equity is the highest in decades, thanks to the increase in home values over the last two years. All of these factors show that today's housing market and economy are far from the house of cards of 2008, and the results may surprise you.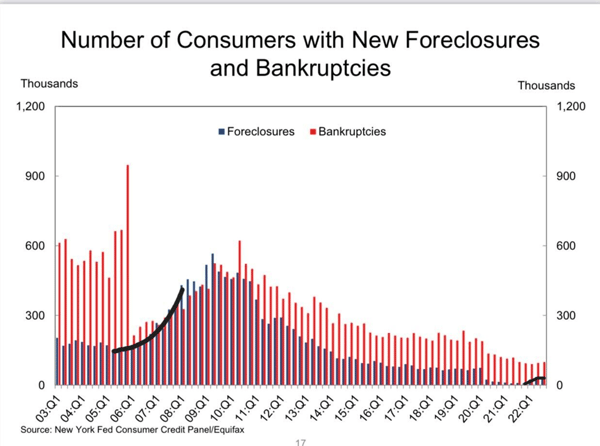 A Return to Normalcy
The results: the housing market might be boring. After three years of busts, booms, and crashing halts, the housing market could return to normal in 2023.
As has been true for the last decade, low inventory will keep prices from bottoming out (but should increase from record lows), and strong personal finances will keep foreclosures down. These should stave off a housing crash even in the worst economic scenario. Throughout the year, potential buyers that were wary of the market because of high prices, then forced out of the market because of high rates, will be watching intently. These buyers will return to the market if the Fed manages a soft landing. Millennials need a first house or a bigger one for their growing families, and Boomers are facing retirement and looking to downsize. This demand is built into the country's demographics. As supply and demand return to normal levels, we could see something quite unusual: normalcy.
Prices in a normal market will be dependent on the region. Demand will return to its seasonal ebb and flow rather than be overwhelmed by national trends. Rates will be higher than the magical 3% rates we once saw, but they could be stable as the Fed tamps inflation and pulls back its interest rate hikes. Perhaps most importantly, these factors will play out over the entire year rather than in the lightning-fast sprints and stops we've experienced over the last three years.
What You Need to Succeed
Now that you know what's ahead, you need the tools to thrive in the coming year. First and foremost, you need smooth and effective operations to provide the best service possible for your clients. With SoftPro's flexible and customizable solutions, you can confidently do every job right.
Once you have the tools to succeed, you need to stand out from the crowd so your customers can come to you. With markets reacting differently throughout the country, you must show that you're the industry expert in your area. But your customers won't know unless they can find you online. You must create informative online content and find creative ways to connect with your clients. If you want the marketing strategies that will work in the year ahead, steal some ideas from us! Check out the blog we posted with tips for helping your business succeed in 2023.
Like you, the SoftPro team will keep an eye on the market this year as it unfolds. Follow along with us for the latest news and insights into the industry throughout the year.
Don't miss out on industry news and updates. Subscribe to the SoftPro blog stay in the know: