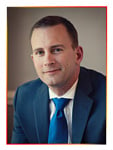 Each quarter, SoftPro sponsors Trendsetters by October Research. This series focuses on professionals in the title insurance industry who have made significant impact and emerged as leaders, demonstrating their passion for the industry in everything they do professionally.
This quarter, Trendsetters features Jim Janson, a Managing Partner of Title Professionals Group, LTD, which started with a handful of colleagues that prepared deals in a rural county. Now, Title Professionals Group, LTD has grown to 4 offices with 51 employees, and completes hundreds of transactions per month.
When you read the full Trendsetters report, you'll see how Jim has always been a hard worker. He was hired by his high school teacher to paint her barn, which he did while working as an employee at the local golf course. It turns out that his teacher's husband, Pete Pasqualone, was the general manager for Buckeye Title in Jefferson Ohio. Jim's work ethic prompted Pasqualone to offer him a job as a title examiner. After learning the industry from the ground up, Jim went on to become an industry leader at the settlement table.
Jim is an incredible leader in the industry, passing on his valuable knowledge and resources to his team and those he mentors.
Read his full
inspirational story to learn:


How he transferred his hardworking attitude from his early jobs to the settlement table

Transitioning from a small, six-person agency to managing 2 offices with 20 employees

How Janson learned the ins and outs of the title industry from the ground up

His innate understanding of title processes by learning the old-fashioned way

Janson's networking skills between experienced title examiners

Fitting his education into his already busy work and family life

How he acquired a title agency company and grew it into 6 offices with 51 employees
Read Jim's full story today: