Thank you so much to everyone who attended Episode 12 of our Saved You a Seat webinar series: Webinar Presenting and Hosting 101! We loved connecting with you for another great episode, and hope that you were able to take away valuable tips and tricks for hosting your next webinar or online event.
SoftPro's Director of Regulatory Compliance Leslie Wyatt got together with FNF National Agency Director of Education Linda Grahovec, and the two provided valuable advice on being an effective online speaker or webinar presenter, with tips on how to:
Establish an objective

Set and share an agenda, and remember to be mindful of attendees' time

Use storytelling to engage an online audience

Come prepared with talking points memorized and stay in your lane

Practice with the technology you will use

Find the right presenters

Do's and don'ts of video conferencing etiquette

Promote your webinar through effective marketing

And more!
Not able to join us for the live webinar? We've made a recording of Episode 12 available for you to watch, and you can also view the presentation slides from the webinar below:
For Episode 12, we've put together a couple of additional handouts. Click below to view either
FNF's presentation on Video Conferencing Tools or the GoToMeeting Organizer Checklist:
---
Each episode, we'll be sharing a new recipe with you. Do you have a special recipe you would like to share with us? Submit your recipe online! If you make a recipe, tag us on social media using #SoftProSavedYouASeat and we may feature your recipe or photos in an upcoming webinar!
Featured Recipe:
Strawberry Arugula Salad with Goat Cheese & Mixed Berry Sangria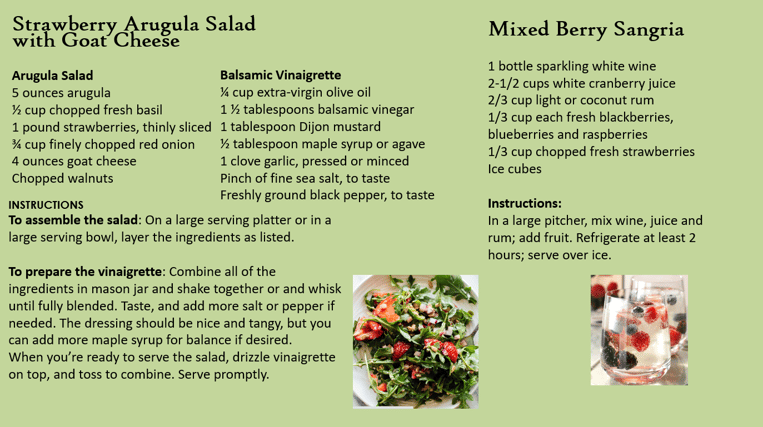 Don't miss Saved You a Seat Episode 13: Growing Your Title Business in 2020 on August 25, 2020 at 11:30 AM EDT. Register now:
Don't miss an episode of Saved You a Seat! Subscribe to webinar notifications now to receive an email notification whenever a new episode is available!