Thank you so much to everyone who attended Episode 13 of our Saved You a Seat webinar series: Growing Your Title Business in 2020! We loved connecting with you for another great episode, and hope that you were able to take away valuable tips and tricks for hosting your next webinar or online event.
SoftPro's Director of Regulatory Compliance, Leslie Wyatt, welcomed Laura Perry, owner and CEO of Homeland Title and Chuck Kramer, VP Information Systems at PGP Title. They shared their experiences of managing high monthly order volumes while implementing new safety measures and continuing to grow their business. Some of the topics they discussed included:
How to continue closings with coronavirus changes

Adapting business practices to meet the needs of your customers

Embracing new technology

Managing high monthly order volume in the current market environment

Increasing efficiency while staying safe
Not able to join us for the live webinar? We've made a recording of Episode 13 available for you to watch, and you can also view the presentation slides from the webinar below:
Each episode, we'll be sharing a new recipe with you. Do you have a special recipe you would like to share with us? Submit your recipe online! If you make a recipe, tag us on social media using #SoftProSavedYouASeat and we may feature your recipe or photos in an upcoming webinar!
Featured Recipe: Lasagna Soup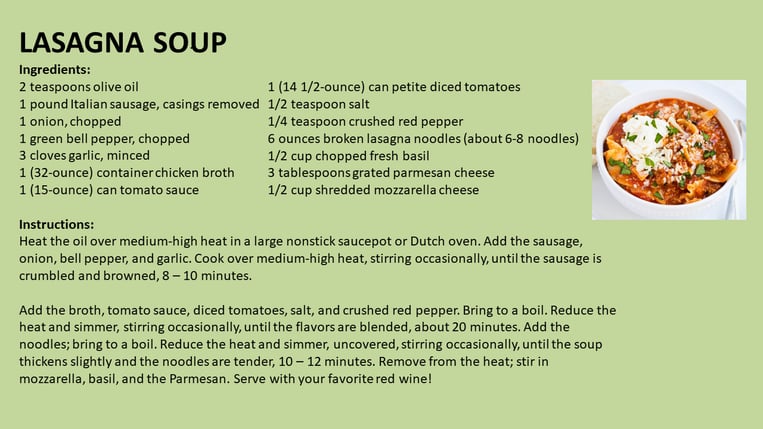 Join us for Saved You a Seat Episode 14 titled SoftPro 360... Your One-Stop Shop for Closing and Title Services which will air on September 22, 2020 at 11:30 AM EDT.
Don't miss an episode of Saved You a Seat! Subscribe to webinar notifications now to receive an email notification whenever a new episode is available!