Thank you so much to everyone who attended Episode 5 of our Saved You a Seat webinar series: SoftPro Select Secrets to Success! We loved connecting with you for another great episode, and hope that you were able to take away helpful tips to maximize efficiency when using the SoftPro Select edition.
SoftPro's Director of Regulatory Compliance Leslie Wyatt got together with SoftPro Trainer Jodie Stewart to talk about impressive features within your SoftPro Select edition software, like:
SoftPro Select Dashboard (Available for on-premise only)

Split-Screen Functionality

Underwriter Bulletins

Tasks

Naming Attachments

Keyboard Shortcuts

And additional services and tools designed to save you time and money!
Not able to join us for the live webinar? We've made a recording of Episode 5 available for you to watch, and you can also view the presentation slides from the webinar below:
We received several questions during our webinar on features and tools for SoftPro Select. Check out our full list of questions and answers below:
---
Each episode, we'll be sharing a new recipe with you. Do you have a special recipe you would like to share with us? Submit your recipe online! If you make a recipe, tag us on social media using #SoftProSavedYouASeat and we may feature your recipe or photos in an upcoming webinar!
Featured Recipe:
Sun Dried Tomato Goat Cheese Crustless Quiche & Mimosa Bar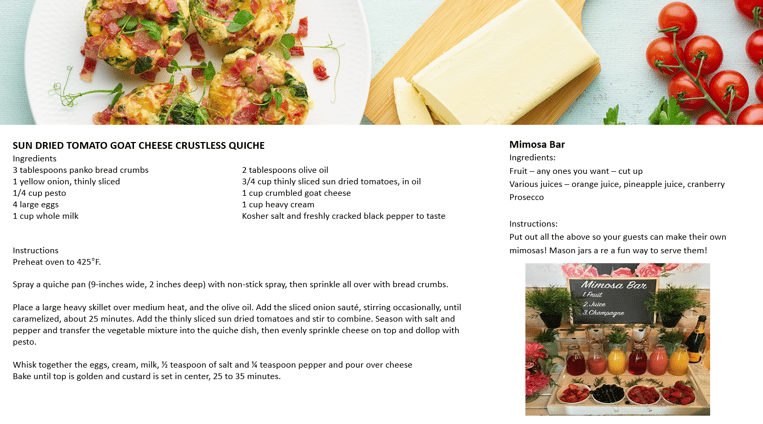 Don't miss the next installment of Saved You a Seat Episode 6: Mastering SoftPro Standard & Enterprise on May 26, 2020 at 11:30 AM EDT. Please note: Episode 6 will be specific for SoftPro Standard & Enterprise users only.
SoftPro also offers FREE webinars for customers each month on a range of topics. Don't miss out on the remaining webinar sessions for May including topics like recording fee reconciliation, commercial transactions, multiple loans funding scenario, and more! Register today:
Don't miss an episode of Saved You a Seat! Subscribe to webinar notifications now to receive an email notification whenever a new episode is available!