The 18th Annual American Business Awards® announced that SoftPro was awarded a Grand Stevie Award trophy for 2020. SoftPro earned the Grand Stevie Award distinction by placing in the top 10 overall in the 2020 American Business Awards®.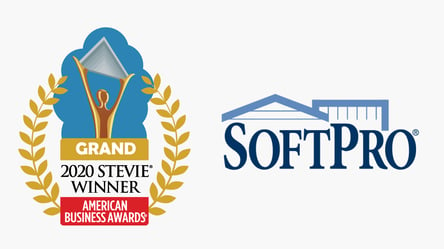 SoftPro is honored to announce that we were awarded with a Grand Stevie Award in the 2020 American Business Awards. Grand Stevie Awards cannot be applied for directly. Winners are determined by a points system based on the total number of awards won in the ABAs, with a Gold Stevie win counting for 3 points, a Silver Stevie for 2 points, and a Bronze Stevie counting for 1.5. With more than 3,600 submitted nominations from organizations of all sizes and in virtually every industry, SoftPro was one of the top 10 award point winners. SoftPro earned points for its two Gold Stevie Awards - Support Team of the Year and Company of the Year – Real Estate as well as five Silver Stevie Awards including Company of the Year – Software, and two Bronze Stevie Awards including Corporate Social Responsibility Program of the Year.
"We are ecstatic to be named a Grand Stevie Award honoree for 2020," said Joyce Weiland, SoftPro president. "We set the bar high for ourselves in servicing our customers, and this designation provides additional validation of our dedicated employees' efforts to put our customers first."
Winners will be honored during the ABAs' virtual awards ceremony on August 5, 2020. Details about The American Business Awards and the 2020 Grand Stevie winners are available at www.StevieAwards.com/ABA.
Learn more about SoftPro's award-winning support services.
Discover our industry-leading software solutions.
Hear what our customers have to say about our products and services: