Happy Customer Appreciation Week from SoftPro!
Customer Appreciation Week 2019 comes at an exciting time for SoftPro, as it's also our anniversary! For 35 years, we've been serving the title industry as the leading software provider for real estate title, closing and escrow processes. And we couldn't have done it without our amazing customers! That's why we've put together some special surprises for you!
Day 1
To kick things off, we're having a throwback celebration in honor of the decade SoftPro was founded: the 80's. We want you to send out your old pictures from the 80s, or put together your own outfit for an 80s-themed photo! To enter, post your picture on Facebook, Twitter, LinkedIn or Instagram, tag SoftPro AND use the hashtag #SoftPro35 by noon on Thursday, October 10.
Be on the lookout for Friday's email, where we'll randomly select and announce the winner, who will receive a bag of SoftPro swag!
Day 2
To celebrate Customer Appreciation Week, SoftPro is having a drawing for one lucky customer to win a spot to attend SoftPro's 2020 User Group Conference to be held April 15 - 17, 2020 at La Cantera Resort & Spa in San Antonio, Texas!
This can't-miss event of 2020 features two days of amazing networking, expert-led training, industry updates, and more fun than you can shake a stick at!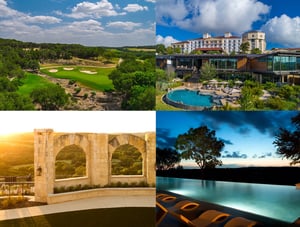 How do you enter the drawing?

Simply share a favorite SoftPro experience by posting on Facebook, Twitter, LinkedIn or Instagram, tag SoftPro AND use the hashtag #SoftPro35.
One customer from those sharing their favorite SoftPro experience with the hashtag #SoftPro35 will be drawn at random to win 1 free conference registration.*
The winner will be announced on Friday, October 18.
*Includes SoftPro User Group Conference Registration Fee only for 1 attendee. Winner is responsible for their own travel and hotel expenses. Registration is non-transferable. No cash value.
Day 3
In celebration of our customers on Day 3 of Customer Appreciation Week and SoftPro's 35th year in business, we've got a special anniversary sale going on for you! Valid TODAY only, get 35% off one new license fee! This means you can get 35% off a new license for either SoftPro Standard, Enterprise, or Select.
To get your 35% off discount, all you have to do is fill out the quick form below and our sales team will reach out with further details.
*Valid until 11:59 PM ET on 10/92019. Offer valid on 1 SoftPro license fee.
Day 4
For the fourth day of Customer Appreciation Week we want to do a giveaway! In continued celebration of our 35th Anniversary, we're going to give away a free SoftPro t-shirt to the first 35 customers who fill out the form below! If you're one of the first 35 customers to complete the form, we'll ship your shirt directly to you.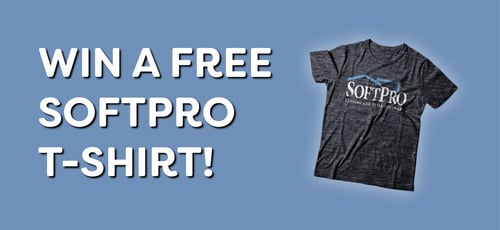 Please Note: The form will automatically close once it has been completed by the first 35 customers.
Be sure to check back to this blog page every day this week for the Customer Appreciation surprise of the day!