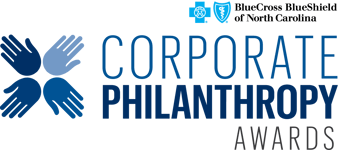 We are extremely proud and excited to announce that SoftPro accepted an award at the Triangle Business Journal's 2018 Corporate Philanthropy Awards Ceremony! These awards honor nonprofits and the corporate citizens (companies and individuals) supporting them through philanthropy, volunteerism, board support, and corporate partnerships. This is the first year SoftPro was nominated for a Corporate Philanthropy Award, and we are humbled to be recognized as a winner. Some of the service efforts that earned us the award include:
Fun Fridays initiative, where we've raised over $125,000 for dozens of charities since it began in 2010
Participation in Ella's Race every year since 2014
Partnership with the Millbrook Elementary school supply drive since 2012
Monthly volunteering at Shepherd's Table Soup Kitchen
Operation Christmas Child, where we supplied 168 boxes of toys and treats to children in need
Corporate donations to dozens of both local and national charities
SoftPro has a long history of philanthropic involvement throughout our 34 year history. Besides the obvious benefits to the numerous philanthropies that are supported by SoftPro's continual efforts, the comradery among our employees through their service and fundraising has been a residual benefit.
Our core belief that happy employees make happy customers is the foundation of our philanthropic efforts, as our customers choose SoftPro not only for our best-in-class products and solutions, but also for our great community reputation and amazing people.
We hope to continue to inspire our employees to come together as a company, to help make our community stronger and better place to live and work.
To learn more about SoftPro's philanthropic work and the
organizations we support,

click

here

.