We are thrilled to announce that SoftPro was named the winner of two Gold Stevie® Awards for the "Sales Growth Achievement of the Year" and "Sales Distinction of the Year - Computer Software" categories in the 15th annual Stevie Awards® for Sales & Customer Service.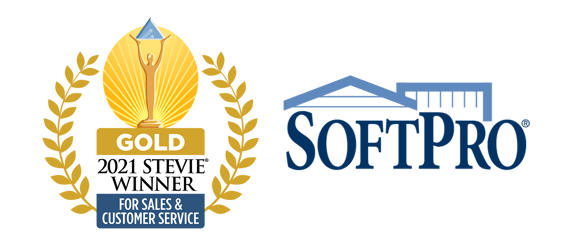 More than 2,300 nominations from organizations of all sizes and in virtually every industry, in 51 nations, were considered in this year's competition. Winners were determined by the average scores of more than 160 professionals worldwide on nine specialized judging committees.
"Being recognized for our achievements over the course of a year defined by the pandemic, and in historically one of the most challenging business climates since our founding, is a great honor," said Patrick Hempen, SoftPro Chief Customer Officer. "By continually focusing on the ever-changing needs of our customers through our hosted software solutions, SoftPro has enabled them to securely and safely deliver their services in a remote environment."
SoftPro's two Gold-winning entries reflected on empowering its customers to facilitate real estate transactions and meeting their evolving needs in turbulent times. The 2021 Stevie® Awards also recognized SoftPro with two Silver Awards and a Bronze Award in both customer service and sales categories. Winners will be recognized in a virtual awards ceremony on April 14.
"In the toughest working environment in memory for most organizations, 2021 Stevie® Award winners still found ways to innovate, grow sales, please their customers, and secure new business," said Stevie Awards president Maggie Gallagher. "The judges have recognized and rewarded this, and we join them in applauding this year's winners for their continued success."
Details about the Stevie® Awards for Sales & Customer Service and the list of Stevie® winners in all categories are available at www.StevieAwards.com/sales.
Learn more about SoftPro's award-winning support services.
Discover our industry-leading software solutions.
Hear what our customers have to say about our products and services.