Technology is changing how the world conducts business at lightning speed, and the title and escrow industry is no different. The entire home closing process is going digital, from originations to post-closing document preparation. SoftPro is leading the way in providing our clients with the best digital tools in the industry to stay ahead of every technological wave.
Use the links below to jump to a specific section of this blog:
Real estate closings are some of the most complex financial transactions around, involving hundreds of pages of critical documents shared between title agents, buyers, sellers, lenders, attorneys and a host of other possible parties involved. Of course, you need state-of-the-art technology to keep track of these moving parts, but you also need to know the title and escrow process inside and out. You need to listen for the latest trends on what homebuyers and sellers expect during their closing process and what title professionals need to give these clients the best experience possible.
Well, SoftPro has been listening, and we've heard loud and clear that eClosings and digital transactions are the future of the title and escrow industries. That's why we created the most advanced slate of eClosing products and services available to assist our clients through every step of the digital closing process.
Below, we'll cover why eClosings and digital transactions are here to stay and how we can assist you every step of the way. But first, let's ensure we're on the same page with the most important terms.
Terms to Know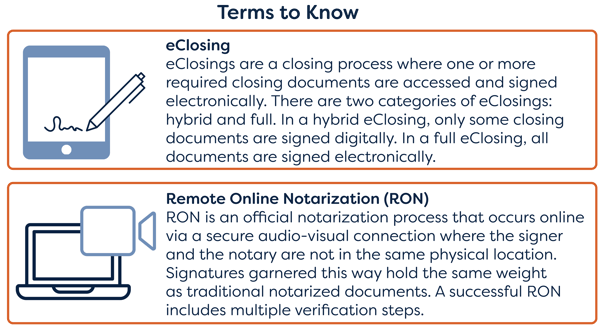 eClosing
eClosings are a closing process where one or more required closing documents are accessed and signed electronically. There are two categories of eClosings: hybrid and full. In a hybrid eClosing, only some closing documents are signed digitally. In a full eClosing, all documents are signed electronically.
Remote Online Notarization (RON)
RON is an official notarization process that occurs online via a secure audio-visual connection where the signer and the notary are not in the same physical location. Signatures garnered this way hold the same weight as traditional notarized documents. A successful RON includes multiple verification steps.
Why eClosings are Here to Stay

First and foremost, eClosings are here to stay because that's what consumers want. According to a survey from Finastra, 81% of consumers prefer to sign loan documents electronically. This trend toward eSigns skyrocketed during the pandemic when the American Land Title Association (ALTA) found a 547% spike in eClosings in 2020 as a response to the pandemic. ALTA's 2022 digital closing survey found that 30% of title companies offer RON services, far surpassing the pre-pandemic level. Almost two-thirds of the title professionals who participated in the survey believe this number will only increase in the coming years.
After more than 20 years in the mainstream, it may seem obvious that consumers prefer eSigns, especially among digital native Millennials and Gen Zers that now comprise a large portion of the housing market. However, an even more revealing stat from the Finastra study is that 64% of consumers say that the time it takes to close a loan is the most stressful factor in the mortgage process. Luckily, eClosings can help solve their biggest worry.
A 2022 Notarize study showed that eClosings address consumers' most important issue head-on. Here are some of the groundbreaking findings:
Full eClosings can eliminate an average of 7.16 days from the processing/funding cycle time.

Hybrid eClosings eliminate 99 minutes, while full eClosings eliminate up to 157 minutes per transaction.

eClosings can reduce error rates by up to 31%.
So, for consumers, eClosings shorten the closing process while decreasing the stressful hours at the (virtual) closing table, and all with fewer errors throughout the process. But what does this mean for the title company? Does this improved efficiency come with increased costs or more work?
Quite the opposite. The same Notarize study found that:
eClosings eliminate approximately $97 in costs per transaction for the title company.

A full eClosing with Remote Online Notarization eliminates up to 104 minutes in preparation per transaction.
Finally, we can't forget about the lenders who save an average of $444 per loan with eClosings. eClosings are here to stay because all parties involved in real estate transactions benefit from them. Keep reading to see how SoftPro combines these benefits with our unmatched industry knowledge to provide the best eClosing experiences in the industry.
How SoftPro Streamlines eClosings and Digital Transactions
Providing support for eClosings is part of SoftPro's commitment to helping our customers navigate the complex and ever-changing field of real estate closings. We know that no two eClosings are the same. These complicated transactions require an array of experts to tackle specific issues throughout the closing process while keeping all parties to the transaction informed of every move. To streamline this process, SoftPro provides step-by-step solutions for every scenario, giving our customers a comprehensive support system at every point.
Tools for Every Step
SoftPro has a digital solution for every step of the closing processing, including:
Order Origination

Search and Exam

Commitment Delivery

Pre-Closing

Closing

Post-Closing

Policy

Ancillary
Wondering how we can provide such a wide range of digital services? We partner with leading industry vendors who offer eClosing solutions and make them readily available in our SoftPro 360 vendor portal. With SoftPro 360, you can order all your closing, title and escrow services for your eClosing without ever leaving your SoftPro software. The best part? It's free! All you have to do is pay for the services you order through the portal.
Tools to Keep in Touch
ClosingsLIVE

ClosingsLIVE is a customizable communication portal that allows you to provide all authorized parties with secure access to the status of your closings, 24/7. With ClosingsLIVE, you can communicate securely and directly with the buyer, seller, real estate agent, attorney, and lender to track the status of your closings, both from your desktop and through the ClosingsLIVE mobile app. ClosingsLIVE allows you to automate tasks, customize email and notifications, and share documents to track the status of your closings in real-time. With the ClosingsLIVE mobile app, your customers will receive push notifications when an order is first shared, when a milestone or document is updated, or when an order is closed.

CloseSimple

CloseSimple

keeps all closing parties in the know through its automated texts and emails with its "Pizza Tracker for Title." The fully customized and branded emails and timelines help settlement agents differentiate themselves while increasing transparency throughout the closing process for Realtors, lenders and consumers.
Even the smallest details will never fall through the cracks with these tools.
The Ultimate eClosing Tool
SoftPro Sign is the final tool you'll need to give your clients the eClosing experience they want. With SoftPro Sign, all parties to a transaction can easily eSign all necessary documents from the comfort of their homes.
Are you tired of switching between vendors for eSign-only and RON closings? Our streamlined process allows for straightforward eSigns or full RON capabilities all in one tool, without leaving your SoftPro software.
Most importantly, SoftPro Sign keeps your clients secure. With state-of-the-art credential analysis and multi-factor authentication, your clients can rest easy knowing their personal information is safe.
The Bottom Line
eClosings are not just a passing trend but a transformation in the title and escrow industry that benefits all parties involved in real estate transactions. SoftPro is dedicated to providing a comprehensive suite of eClosing products and services to help our clients stay ahead of the curve in this rapidly changing landscape. We understand that efficient communication and seamless integration are essential for a smooth closing process. Our digital tools are designed to facilitate exactly that.
If you're ready to embrace the future, explore our eClosing solutions and experience the difference for yourself. To learn more about how SoftPro can help your business thrive in the digital era, contact SoftPro Sales at sales@softprocorp.com or 800-848-0143.
Would you like to download a PDF version of this blog?