Thank you so much to everyone who attended Episode 2 of our Saved You a Seat webinar series on Living and Working Remotely! We loved connecting with you for another great episode, and hopefully you were able to pick up some pointers for developing new habits that will help you stay productive in this new normal of spending more time at home.

SoftPro's Director of Regulatory Compliance Leslie Wyatt got together with Melissa McBerkowitz, SoftPro SVP of Product and Amy Niesen, Senior VP/General Counsel at Land Title Company of Alabama to discuss best practices for working remotely, including:
Communicating effectively and often

Getting dressed as if you're going to the office

Sticking to a routine

Having a designated workspace

Aligning your work and family schedules

Connecting with your team

Communicating effectively and often (this bears repeating because we can't emphasize it enough!)
SoftPro also rounded up our Top 20 Tools for Working Remotely that you can take a look at while implementing Leslie, Melissa, and Amy's best practices for achieving maximum productivity when working from home.
Not able to join us for the live webinar? We've made a recording of Episode 2 available for you to watch, and you can also view the presentation slides from the webinar below:
Each episode, we'll be sharing a new recipe with you. Do you have a special recipe you would like to share with us? Submit your recipe online! If you make a recipe, tag us on social media using #SoftProSavedYouaSeat and we may feature your recipe or photos in an upcoming webinar!
Featured Recipe:
Pan Seared Boneless Pork Chops with Honey Garlic Sauce and a Peach & Lemon Refresher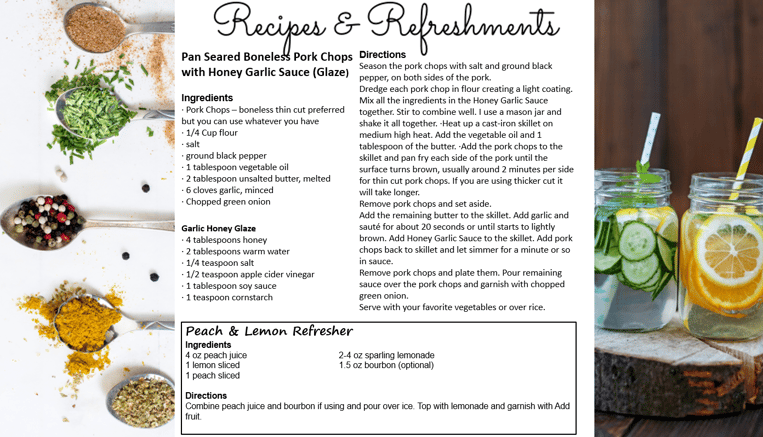 Don't miss the next installment of Saved You a Seat Episode 3: Bet You Didn't Know...Tips, Tricks & Tools for Your SoftPro Software! Register now for the next webinar on May 5, 2020 at 11:30 AM EDT:
Do you have an idea or topic you'd like to see covered in a future episode of Saved You a Seat? Let us know your suggestions below!
Don't miss an episode of Saved You a Seat! Subscribe to webinar notifications now to receive an email notification whenever a new episode is available!